Frequently asked questions
When it comes to wastewater and its disposal, there can be few questions we haven't already been asked and answered. We've compiled a list of the most popular below, so do take a look and see if yours is amongst them.
I'm moving home, what should I do?
It's simple. Tell us when you're moving so we can calculate your final bill. You'll need to let us know your final meter reading taken on the day you move out. Find out more here.
What leaks, blockages and floods are my responsibility?
Generally, if a leak, blockage or flood is caused by pipework, drains or sewers within your property's boundary, then it's your responsibility to fix. Call our 24 Hour Emergency Helpline on 0333 3208 656 to help us ascertain where responsibility lies or refer to the 'Blockages' or 'Flooding' pages on this website.
What are private drains and sewers?
A private drain is a pipe which carries foul and/or surface water form one property to a sewer. A private sewer is a pipe that collects and conveys foul and/or surface water from several properties and which has not been adopted by us. In an emergency, we can arrange clearance of blockages from both private drains/sewers and public sewers.
However, if the blockage occurred in a private drain/sewer then those customers discharging to that drain or sewer will be financially liable for any fixing and clearance costs.
How can I pay my bill?
For your convenience, there are a number of ways you can pay your bill. These range from Standing Order, cheque and internet/telephone banking by debit/credit card. You can find out more here.
What if I can't pay my bill?
Financial difficulties can hit us all so if you find yourself unable to pay our bill, please contact our Customer Service Team as soon as possible. Temporary arrangements could be made to help spread your payments. We will make sure you're on the most appropriate plan for your circumstances and we can recommend other organisations that may be able to offer you debt counselling services. You can find out more here.
What is the Standing Charge?
This covers a fixed fee for surface water management plus the costs that we incur for customer billing, account maintenance, payment collection and answering enquiries.
Will I be charged VAT?
Sewerage charges to either domestic or commercial customers do not usually attract VAT. However, as VAT is charged at standard rate on the maintenance, cleaning, unblocking etc of sewers and drains, you may pay have to pay it. If we charge you VAT we will indicate clearly on your bill what it's for and the amount. Note: if VAT is included on your account and you feel you should not be paying it, please contact our Customer Service Team.
I'm on benefits, can you offer me any assistance with my bill?
You may qualify for our WaterSure tariff or Special Assistance Fund, depending upon your circumstances and account type. Please see our 'Help paying your bill' page or call our Customer Service Team.
What if I think you've made a mistake on my bill?
Please contact us using our query my bill form or call our Customer Service Team.
What do I do if I wish to complain?
If you have a complaint, in the first instance please call our Customer Service Team who will be happy to help you.
My Bill Explained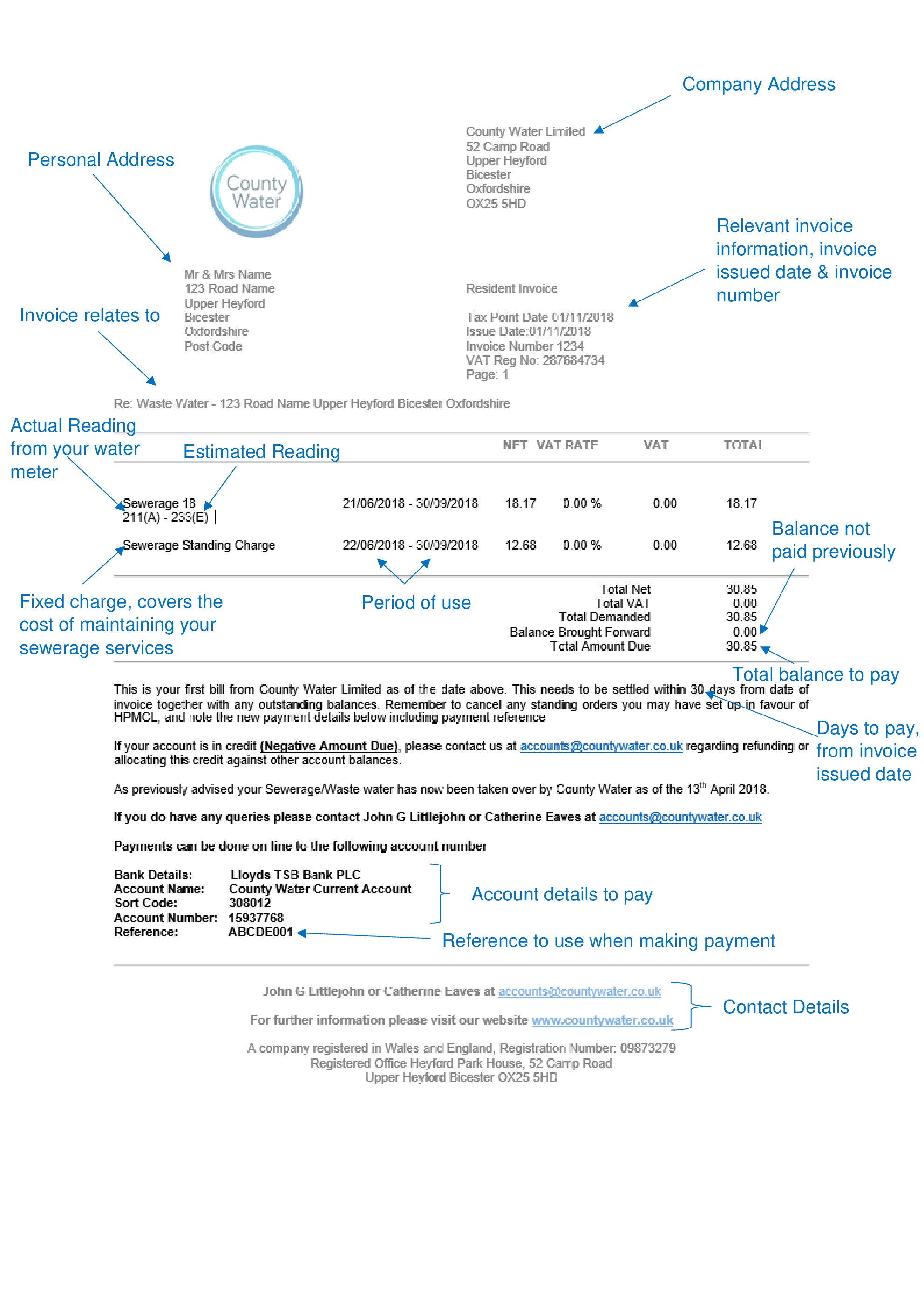 How is an estimated bill calculated?
Your estimated waste water usage is based on the size of your property and the number of units you have used previously. The billing rate is the same as an actual bill.
Why have I received an estimated bill?
Either we were unable to read your meter, otherwise this will be an interim bill as we aim to read water meters annually.